Ye Olde Pro Shoppe is the largest pro shop in Central Ohio and features a full line of bowling balls, bags, shoes, and accessories. We are conveniently located in the east end of the Columbus Square Bowling Palace and also have added a second location at Capri Lanes. Ye Olde Pro Shoppe is owned and operated by Greg Van Gundy, Ron Hatfield, Irion Mitchell, and Keith Miller. We also offer coaching and instruction for all ages and skill levels, and invite you to click on RKH Coaching Group above for more information. So come visit us at Ye Olde Pro Shoppe for all of your bowling needs.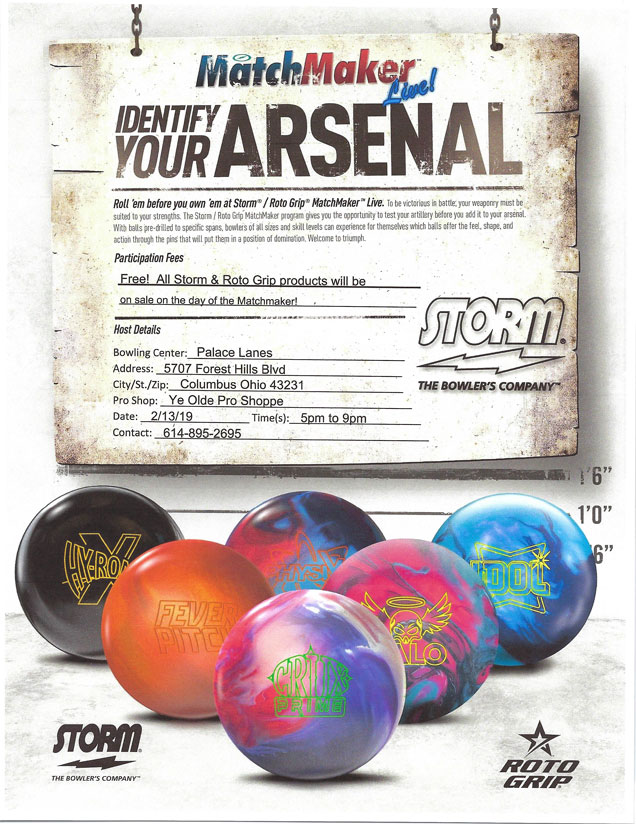 (click pic for full-size PDF)
Ye Olde Pro Shoppe now has two locations!
Same great service and selection, at two great locations!
Have an inquiry? Click here to send us an email...
Ye Olde Pro Shoppe at Columbus Square Bowling Palace

Telephone

614-895-2695
614-895-BOWL

Address

5707 Forest Hills Blvd., Columbus, Ohio 43231

Hours of operation:

| | |
| --- | --- |
| Monday | Noon to 7pm |
| Tuesday | Noon to 7pm |
| Wednesday | Noon to 7pm |
| Thursday | Noon to 7pm |
| Friday | Noon to 6pm |
| Saturday | 11am to 5pm |
| Sunday | Closed |

Ye Olde Pro Shoppe at Capri Lanes

Telephone

614-431-2695
614-431-BOWL

Address

5860 Roche Dr., Columbus, Ohio 43229

Hours of operation:

| | |
| --- | --- |
| Monday | 3pm to 7pm |
| Tuesday | 3pm to 6pm |
| Wednesday | 3pm to 7pm |
| Thursday | 3pm to 7pm |
| Friday | Closed |
| Saturday | 9am to 2pm |
| Sunday | Closed |